We've launched our Treasure Rewards Loyalty Program and we'd love to reward your loyalty.Once you're in, you'll be able to earn points and redeem them for amazing products.

There are so many ways to earn reward points that can be spent in the Memorable Treasures store, like cash.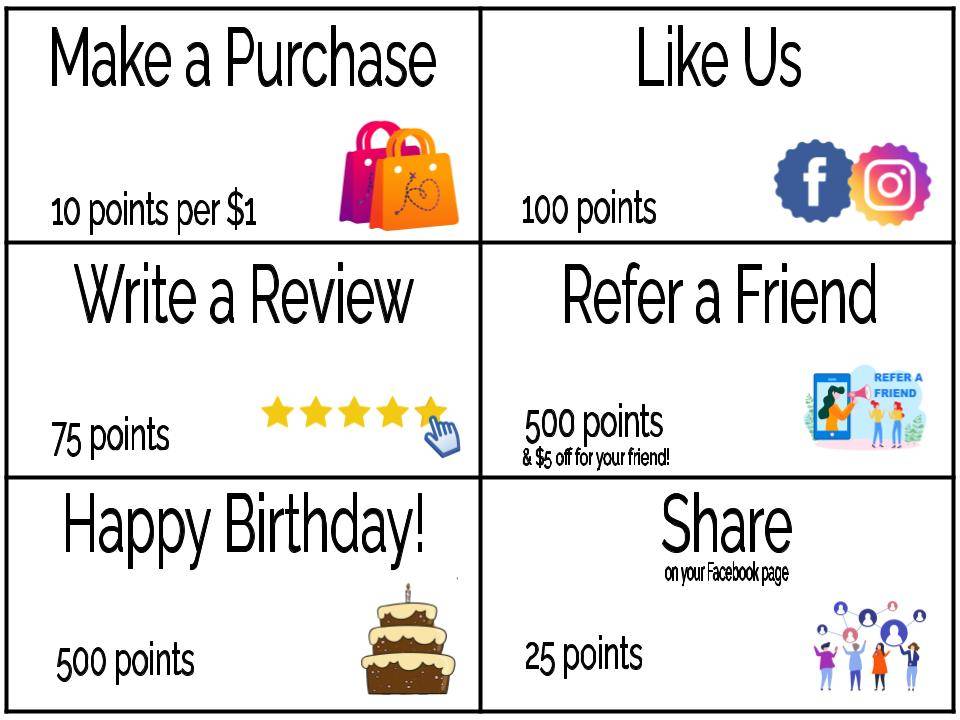 Shop - Earn 10 points for every dollar you spend. 100 points = $1.00.
Like Us On Facebook, or Instagram, or both! - Use your Treasure Rewards panel to Like us on Facebook and/or Instagram and we'll like you back with 100 points each!
Leave Us a Review - Leave us a review on a verified purchase from Memorable-Treasures and we'll give you 75 points. You can review up to three purchased products a week.
Refer a Friend - Use your personal Treasure Rewards code to refer a friend, and if your friend makes a qualifying purchase, you get a fast 500 points right there. That's five bucks of spending money for the store. Your friend will score too because they'll receive a $5 coupon. How's that for a win/win?
Birthday - Being born will earn you another 500 points if you add your birthday to your Treasure Rewards profile. Sign up for your birthday reward and we'll send it to wish you a happy day.
Spread the Word - We're always grateful for a little attention, so use your Treasure Rewards panel to share our website on your Facebook profile and we'll share 25 points with you. And you can share up to four times a week. That's an extra buck to spend in the store!